---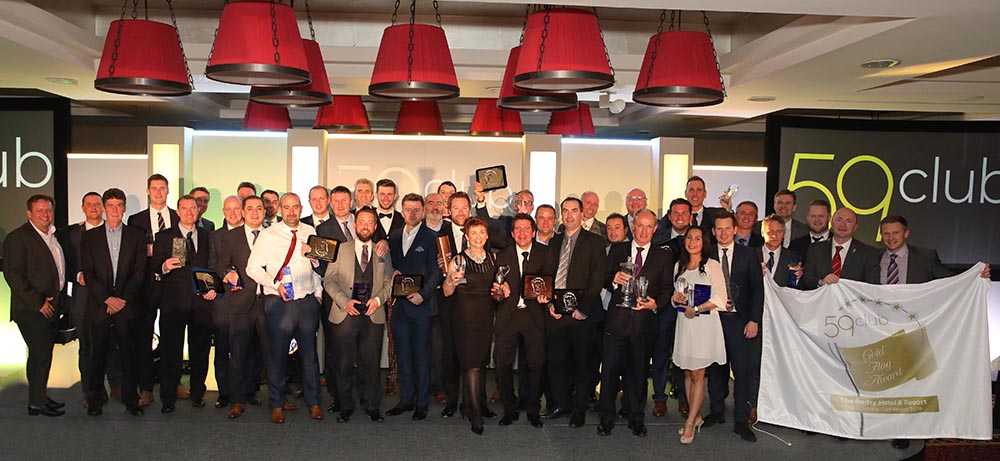 High-profile venues across the world recognised for service excellence in glitzy ceremony at the Home of Golf .
The golf industry's very best clubs, resorts and individuals last night descended on St Andrews, The Home of Golf, for the 9th annual 59club Service Excellence Awards. A day which started with a golf tournament on the Jubilee and iconic Old Course, ended in a celebratory awards ceremony at The Old Course Hotel, within the Hall of Champions.
The Belfry Hotel & Resort and Emirates Golf Club picked up the highest prized awards of the evening, The Ultimate Golf Resort and Ultimate Members' Club. The Belfry Hotel also scooped a 'Gold Flag' and three other awards, including Chris Reeve being crowned UK 'Golf Manager of the year' based on their PGA National Course audits, and Angus MacLeod crowned UK Greenkeeper of the Year in recognition of The Brabazon Course, for the second consecutive year.
Dubai Golf-managed venues were left revelling on the night, with Emirates Golf Club collecting four awards, while Dubai Creek went one better claiming five, including both the Leisure Membership and overseas Golf Membership Sales Teams of the Year. Dubai Golf were also awarded Golf Group of the Year, both venues awarded 'Gold Flags', whilst Stephen Hubner of Dubai Creek crowned overseas Golf Manager of the Year for the second year running. Upon collecting 10 total awards on behalf of venues across the Dubai Golf portfolio, Chris May, CEO, said: "We are absolutely delighted to have achieved such success here at the 59club Service Excellence Awards, and it is with much personal pride that I was able to collect so many accolades on behalf of Emirates Golf Club and Dubai Creek, as well as the sought after Golf Group of the year title. "The expertise, information and staff training support that 59club has provided us over the years has become a mainstay of our business, and has allowed us to deliver a consistently high level of customer service across our entire group operation. We pride ourselves on being amongst the very best venues in terms of the visitor and member experience in world golf."
The awards, which recognised the leading golf venues that consistently achieve 'service excellence' across all areas of their businesses – sales, service, operations, retail, golf course, food & beverage and management – are determined by scores collected from an independent visitor panel who evaluate the experience presented to both visiting golfers and prospective members, all in accordance with 59club's industry leading, non-subjective benchmarking criteria.
To ensure venues of all sizes are recognised for their outstanding levels of achievement, 59club introduced two categories for selected individual and team awards, thus segmenting clubs who charge an average green fee of either above or below £75. This ensures clubs of all sizes and budgets have the chance to receive the credit they deserve, based on the market segment they have chosen to compete in.Chris Reeve, Belfry Hotel and Resort Director of Golf, said: "I am extremely proud to have received such a prestigious accolade, which underlines our commitment to deliver the highest levels of customer service and unforgettable experiences for all of our guests. "The award recognises all the hard work that each individual has contributed towards realising our vision for the future of golf at The Belfry. From the greenkeepers to the bar and kitchen staff, every member of the team is committed to service excellence and does a fantastic job; they are the driving force behind our success. "This win not only demonstrates the achievements of our team, but also signifies the benefits of our work with 59club, and this would not have been possible without our close working relationship with them. I am looking forward to the year ahead and continuing to build upon the resort's illustrious reputation." 59club's Gold, Silver and Bronze Flag Awards, the Industry Benchmark, are a highlight for many. These highly prized accolades recognise member clubs and resorts that provided excellent facilities for golfers to enjoy, as well as having achieved the required standard of customer service throughout 2018. This year, 59club presented 19 'Gold Flags'. The deserving winners were: Forest of Arden, Foxhills, Yas Links, The Dukes St Andrews, Monte Rei, Celtic Manor Resort, The Grove, The Belfry Hotel & Resort, Gleneagles, Rockcliffe Hall, Son Muntaner, Royal GC Bahrain, Stoke Park, Abu Dhabi GC, Trump International Dubai, Dubai Creek, Emirates GC, Saadiyat Beach GC and Roehampton Club. Los Naranjos were the only venue to receive a 'Silver Flag', while 12 'Bronze Flag' Awards were presented to Forest Pines, Slaley Hall, La Manga Club, Castelconturbia, Worsley Park, Club de Golf Alcanada, Frilford Heath GC, Hanbury Manor, Gullane GC, Woodhall Spa, Royal Automobile Club and Sandy Lodge GC. Philomena Wilkinson (Forest of Arden) received the Award for the 'Leading Individual UK Golf Membership Sales Performance'.
Forest of Arden had further reason to celebrate by winning the 'Golf Sales Team of the Year', being awarded a 'Gold Flag' and Simon Howell claiming the 'Golf Retail Manager of the Year' UK award in the over £75 green fee category. These successes for the Marriott Golf Group culminated in a total of 9 awards throughout the night which included a Bronze Flag for Hanbury Manor, Breadsall Priory claiming UK Golf Membership Sales Teams of the Year, and Worsley Park earning themselves a Bronze Flag and UK Golf Operation Team of the Year for the under £75 category. Meanwhile, alongside a Gold Flag, Trump International, Dubai were also crowned overseas Golf Operation Team of the Year. Special acknowledgement should be reserved for Royal GC Bahrain, which claimed two individual awards Paul Gindra and Candice Hall for Overseas Food & Beverage Manager of the Year, and Jamie Faulkner and William Evans for Overseas Greenkeeper of the Year, and also a Gold Flag Designation. In recognition for venues which have shown continued commitment to engage, analyse and enrich their member and guest experience, utilising a collateral of survey tools across 59club's 'my59' software platform, 19 'my59 Awards' were presented. Recipients included Ashburnham GC, Colchester GC, Dalmahoy Hotels & CC, Dunscar GC, Ferndown GC, Gog Magog GC, King's Lynn GC, Langland Bay GC, Maxstoke Park GC, Old Thorns GC, Orsett GC, Radyr GC, Sherborne GC, Stoke Park, St Ives (Hunts) GC, The Scandinavian and The Vale Resort. Two venues received distinction in this category – Celtic Manor Resort and Macdonald Hotels.Other prestigious award winners on the night included Houssem Belabed (Gleneagles) claiming the UK Food & Beverage Manager title within the under £75 category, while Ben Hunt (Rockliffe Hall) received the same accolade within the over £75. Matt Aplin (Goring & Streatley) was crowned the UK Greenkeeper, with Sandy Smith (Ladybank) receiving UK Golf Retail Manager, both within the under £75 greenfee category. The Grove had reason to celebrate success, retaining their Gold Flag status, Brad Gould claimed the UK Golf Manager title, and the Resort crowned UK Golf Operation Team of the Year, both within the over £75 greenfee category. Of this year's awards, Simon Wordsworth, CEO at 59club, commented: "St Andrews Old Course Hotel has not disappointed in providing an exciting and memorable evening celebrating our 9th Annual Service Excellence Awards. The winners have all showcased the very best client experiences possible, a trait that will consistently see them advance standards across the industry and ensure they stay at the forefront of the golf and hospitality industry."The team at 59club has consistently pushed the boundaries with customer service standards and thanks to our proven benchmarking tools and training support, the success stories amongst our client base continue to grow. "I'd like to congratulate all of our winners, nominees and venues we work with, who continue to dedicate themselves to delivering the best experiences possible for their members and guests."