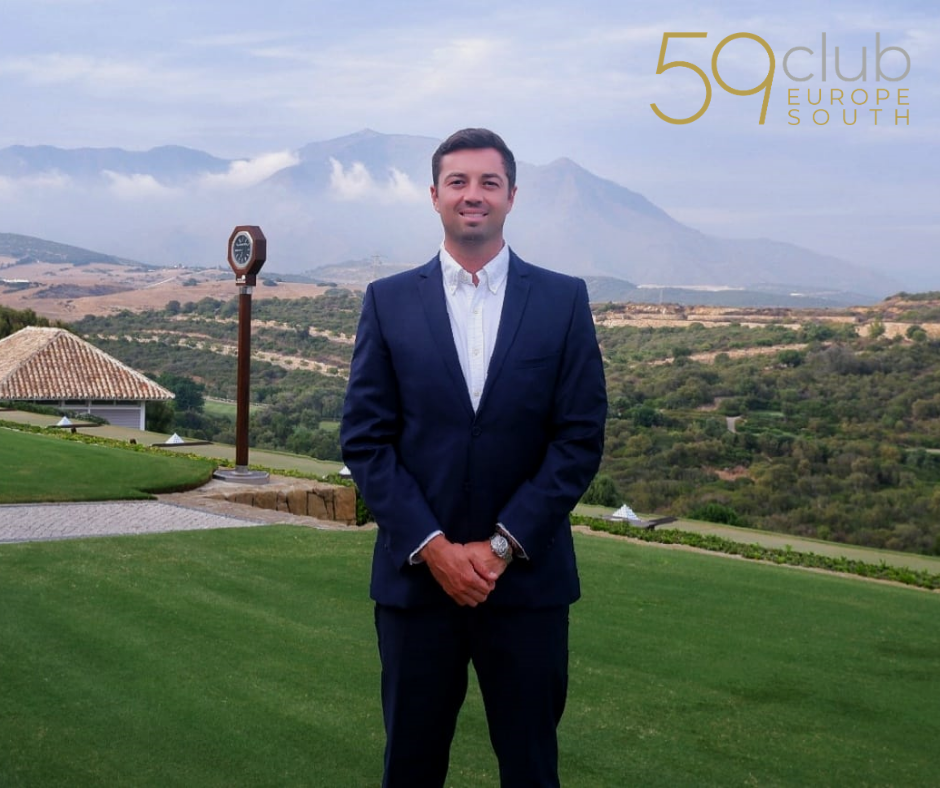 59club, the industry's leading Customer Service & Sales Analysts and Training Provider, has today announced additional growth across the South of Europe with the formation of a dedicated regional team supporting golf and leisure clubs, hotels, restaurants and spa destinations to drive customer service & sales performance across their respective properties.
The new division is led by James Beesley, whose previous experience at Monte Rei Golf & Country Club (Portugal) and current role at Finca Cortesin Hotel & Golf Resort (Spain) – two of Europe's leading luxury resorts – will further strengthen 59club's position within the wealth of golfing hotspots across Spain, Portugal, Italy & Greece.
James joins with an educational background in Business, Marketing & Sports Management, and as a member of the PGA and Club Managers Association of Europe. Venues across the region will also benefit from James' practical expertise, having heightened sales performance and customer service standards as a client of 59club at multiple venues.
Commenting about his new venture, James said; "As a client of 59club I have experienced first-hand the incredible insights and benefits of their products and services, applying their analyses to decision-making and witnessing the improvement in both operational, as well as financial results! I'm thrilled to be able to take on this additional role and look forward to working together with our regional team, whose local knowledge and expertise will provide a dedicated and personalised service to our current and future customers!"
With leading venues such as PGA Catalunya (Barcelona), Finca Cortesin (Marbella), Quinta do Lago (Algarve), and Verdura Resort (Sicily) – all listed amongst the top 20 Resorts in continental Europe –enjoying long-standing prosperous relations with 59club, local standards are set to rise as more properties are attracted to the appealing advantage of enhanced customer satisfaction, acquisition, increased revenues and profits – described by many as the '59club effect'.
Long standing 59club client, Julián Romaguera, General Manager at Los Naranjos said; "We were referred to 59club by La Manga Club during the PGA show, and within 30 minutes of our meeting we had signed up. For me, it was important to have an external tool to identify our strengths and weaknesses, and whilst you may have the perception that you are good at something, this tool keeps your feet on the ground and lets you know exactly what you have to focus on, what are the urgencies and what needs to be prioritised. 59club has to be shared between the staff and by the management at the same time, so that everyone is engaged and dedicated to working together to advance the high levels of service we are committed to achieving. We are using the tools to become more hospitality orientated, moving away from just golf, to introduce a more personalised service. 59club allows you to understand how others work and you can benchmark your sales & service performance against them."
Of the announcement, Simon Wordsworth 59club CEO said; "We are so excited to be working with James on expanding 59club across the South of Europe. These are difficult times; regardless, those venues who afford the best service experience across golf and hospitality will always win. James and the team are the perfect fit to assist venues who strive to progress as they bring our performance management tools and employee training services to a wider market".
Those interested in a proven strategy to measure, analyse and elevate staff performance, overall customer experience, and consequently, operational outcomes, are urged to visit www.59clubeurope.com or reach out to james@59club.com for more information.
For all media queries, please contact: Sarah Connelly, Marketing Manager, 59club HQ. E: sarah@59club.com