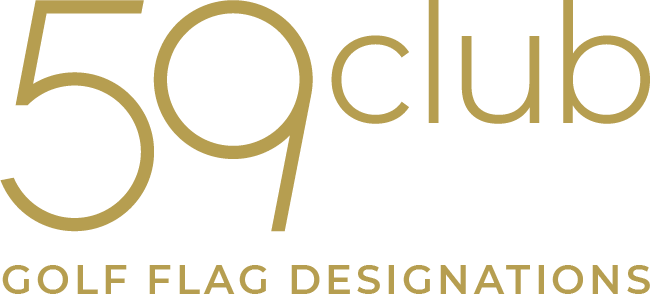 At a time when golf clubs might well cite the pandemic as mitigation for a drop in standards, it's all the more creditable that so many venues across UK and Europe were recognised for their service quality with the annual award of 59club's coveted 'golf flag destinations'.
Remarkably, at a virtual ceremony hosted by presenter and broadcaster Dan Walker, 13 clubs received the highest accolade of a gold flag – the benchmark of excellence – for standards in customer service.
What's more, they were joined on the virtual podium by eight silver and eight bronze award winners, illustrating that despite everything that has plagued the UK & European golf industry since early 2020, many clubs refuse to allow their standards to drop.
Introducing the awards, Walker said: "59club's industry benchmark of excellence, its bronze, silver and gold flags, is an annual tradition across the golf industry. ​They recognise commercial venues and member clubs that have achieved the required standard of customer service, as determined by 59club's impartial mystery shopping audits, with additional recognition for providing the very finest offerings for golfers to enjoy.
"Employee qualifications, restaurant accolades, member communication, and environmental accreditation, are just some of the determining factors within the qualifying golf flag criteria.
"This year, we have witnessed innovation, diversity, and a determined attitude across 59club's affiliate properties. We have seen scholars earn additional qualifications, dining experiences honoured by the finest associations, with facilities and courses positioned among some of the very best in the industry.
"Above all else, the level of engagement achieved with members and guests demonstrates a beacon of light to the future prosperity of the golf industry."
Host; Walker then congratulated the winners of the awards before confirming the launch of a summit that will see clients from all 59club territories compete in the inaugural 'World hospitality service excellence awards ceremony' in 2022.
The 13 venues celebrating the ultimate gold flag in 2021 – and, presumably, harbouring hopes of success in next year's new worldwide ceremony – were Celtic Manor Resort, Forest of Arden Marriott Hotel & Country Club, Foxhills Club & Resort, Gleneagles, Gullane Golf Club, Rockliffe Hall, Stoke Park, The Belfry Hotel & Resort, and The Grove, in the UK; Mount Juliet Estate, in Ireland; Club de Golf Alcanada and Golf Son Muntaner, in Mallorca; and, from Portugal, Quinta do Lago.
The following venues were honoured with a silver flag designation; Burnham & Berrow GC, Farleigh GC, Frilford Heath GC, Hanbury Manor Marriott Hotel & Country Club, Le Golf National, The North Berwick GC, The Mere, and Woodhall Spa.
And finally, the properties celebrating bronze flag status were Harpenden GC, Kingswood GC, Ladybank GC, Long Ashton GC, Panmure GC, Porters Park GC, Royal Dornoch GC, and Slaley Hall.
The 59club industry awards signify the benchmark of excellence and can be seen proudly on display at some of the very best establishments around the world.
Starting with its mystery shopper experiences in UK golf clubs back in 2009, 59club has built a proud reputation and an enviable client list, and is no longer limited to golf clubs – or just the UK.
It remains headquartered in the UK, but now has several divisions across America, Asia, the Middle East and Africa, and multiple offices serving Europe. It now also has a diverse offering that has the brand firmly established in hotels, restaurants, leisure clubs and spas, in addition to its heartland of golf.
Each division is delivering market-leading performance analytics and resources to measure, train and support properties in their region, while also feeding worldwide sales and service performance data into a central database. That vision, teamed with 59club's expertise, is the winning formula that has been driving the hospitality industry to become more customer centric, and, ultimately, more profitable.