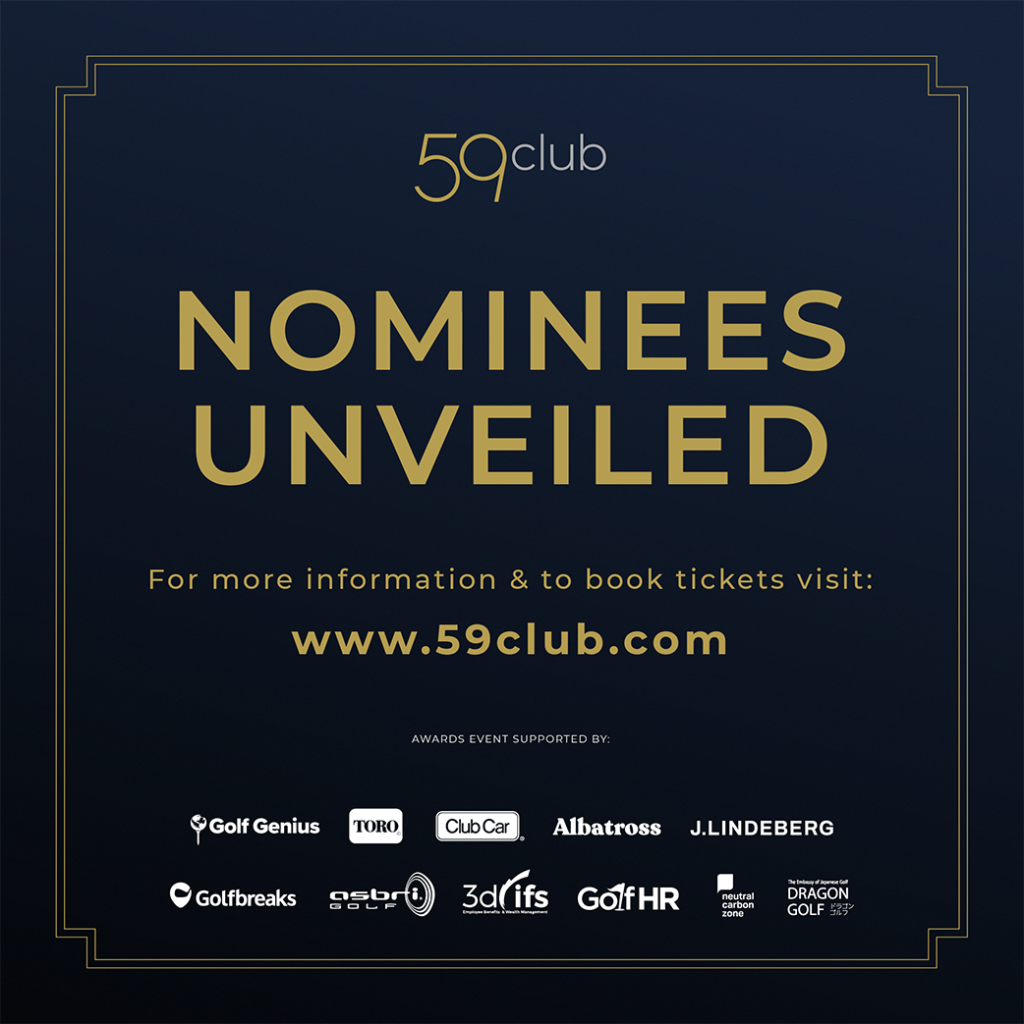 59club will bring together their network of partner venues from across the UK, Ireland and Southern Europe as their 13th Annual Service Excellence Awards Ceremony comes to Hilton St. Georges Park on the 2nd of March 2023.
The nominees for the prestigious accolades, which recognise those outstanding Venues, Teams and Individuals within the industry who consistently deliver outstanding experiences to their members and guests are determined by scores achieved through a detailed and objective mystery shopping programme, measuring the experience afforded to Members, Visitors and Prospective Members across Golf, Leisure and Spa.
With an ever expanding and diverse range of partner venues, 59club continue to reflect the very best performances regardless of a venue's size, scale or profile, with five of the main titles further segmented into three categories based on the average guest fee charged.
A number of the UK's finest Golf Resorts receive multiple nominations this year, with 59club's 2022 "Ultimate Resort" Gleneagles joined by The Grove, The Belfry, Celtic Manor Resort, Delta Hotels – Forest of Arden and the Vale Resort.
Member orientated clubs are also well represented with JCB, Panmure, Long Ashton, Gullane, Harpenden, Belvoir Park, Clevedon, Branston Golf and Country Club and The Bristol Golf Club receiving nominations across various categories.
The West of England features particularly strongly this year with Long Ashton Golf Club achieving four nominations, including Glenn McNaughton defending his crown of F&B manager of the year for the fourth consecutive year. Elsewhere, both Ryan Crowley (Golf Retail) and Sarah Arnel (F&B) of Clevedon Golf Club appear in the nominations listing, with further contenders for the F&B Manager coming from The Bristol Golf Club and The Kendleshire. St Mellion, in their first year of working with 59club receive a nomination for Golf Course Manager Mike Bush in the highly contested Greenkeeper of the Year category.
Staying with Greenkeeping, all eyes will be on serial winner, Matt Aplin of Goring and Streatley, who is looking to retain his Greenkeeper of the Year title, defending an incredible winning streak now into its 5th consecutive year.
As the 59club network continues to expand globally, the UK will once again look forward to welcoming many of Europe's leading venues to the Annual Service Excellence Awards, with Finca Cortesin, Camiral Golf and Wellness, Quinta do Lago, Golf Son Muntaner, Club de Golf Alcanada and Royal Park I Roveri all hoping to take home awards.
Looking ahead to the Awards, Will Hewitt, General Manager, 59club UK said:
"The 59club awards is always a fantastic opportunity to get together and celebrate some incredible achievements and recognise the significant effort which goes into delivering exceptional member and guest experiences each and every day. The list of nominations is a true testament to the talented teams and individuals within our partner venues. With a growth during 2022 of over 20% in the number of venues being measured, being nominated and winning awards this year is truly something to be proud of".
59CLUB UK 'SERVICE EXCELLENCE' AWARD NOMINATIONS (in alphabetical order):
Leading Individual Golf Sales Performance
Alice Kozlowski (The Grove); Chloe Stewart (The Bristol GC); Leighton Williams (Formby Hall)
Leading Individual Golf Membership Sales Performance
Michell Birchall (Hanbury Manor Marriott Hotel & Country Club); Philomena Wilkinson (Delta Hotels Forest of Arden Country Club); Simon Joyce (Branston Golf & Country Club)
Golf Membership Sales Team of the Year
Branston Golf & Country Club; Delta Hotels Forest of Arden Country Club; The Mere Golf Resort & Spa
Leading Individual Leisure Membership Sales Performance
James Flesher (Dunston Hall – Q Hotels Collection); Neil Rees (Celtic Manor Resort); Rebecca Chard (The Vale Resort)
Leisure Membership Sales Team of the Year
Branston Golf & Country Club; Celtic Manor Resort; The Vale Resort
Leading Spa Experience Performance
Eden Hall; Hoar Cross Hall; Rockliffe Hall
Leading Individual Corporate Golf Day Sales Performance
Ben Tomlinson (The Belfry Hotel & Resort); Cameron Dhir (The Astbury); Max Cornes (The Mere Golf Resort & Spa)
Food & Beverage Manager of the Year
F&B Team (Bristol GC); F&B Team (Harpenden GC); Glenn McNaughton (Long Ashton GC); Houssem Belabed (Gleneagles); Jacques Hobson (The Belfry Hotel & Resort); Phil Bragg (The Kendleshire); Sarah Arnel (Clevedon GC); Steven Marshall (Gullane GC); Stuart McDonald (Belvoir Park GC)
Golf Retail Manager of the Year
Andrew Crerar (Panmure GC); Anthony Moore (Oulton Hall – Q Hotels Collection); John Howells (JCB Golf & Country Club); Retail Team (Barnham Broom); Retail Team (Harpenden GC); Russell McIntyre (Gullane GC); Ryan Crowley (Clevedon GC); Simon Howell (Delta Hotels Forest of Arden Country Club); Tom Hughes (The Belfry Hotel & Resort)
Greenkeeper of the Year
Aaron Small (Belvoir Park GC); Andrew Smith (West Herts GC); Angus MacLeod (The Belfry Hotel & Resort – Brabazon Course); Brendan Hegarty (Slieve Russell); Callum Wark (JCB Golf & Country Club); Chris Dyson (Woodsome Hall GC); Gary Nicoll (Panmure GC); Ian Brawn (Delta Hotels Worsley Park Country Club); James Braithwaite (Long Ashton GC); Jim McKenzie (Celtic Manor Resort – 2010 Course); John Plummer (Carton House); Matt Aplin (Goring & Streatley GC); Mike Bush (St Mellion); Phil Chiverton (The Grove); Scott Fenwick (Gleneagles)
Golf Operations Team of the Year
Celtic Manor Resort (2010 Course); Delta Hotels Forest of Arden Country Club (Arden Course); Foxhills Club & Resort; Long Ashton GC; North Foreland GC; The Belfry Hotel & Resort (Brabazon Course); The Belfry Hotel & Resort (PGA National Course); The Grove; The Vale Resort
Golf Manager of the Year
Brad Gould (The Grove); Brian Duncan (Celtic Manor Resort); Chris Reeve (The Belfry Hotel & Resort); Fraser Liston (Delta Hotels Forest of Arden Country Club); Gareth Morgan (Long Ashton GC); Ian Orrell (Wychwood Park); Matt Sandercock (Mount Juliet Estate); Noel Werner (The Vale Resort); Sean Graham (Foxhills Club & Resort)
On behalf of our Host Venue, Sponsors & Industry Partners, we look forward to welcoming you to our 2023 'Service Excellence Awards.'