The very best individuals, teams and venues have been unveiled for 59club's 12th Annual Awards Ceremony, celebrating excellence across sales, service, operations, retail and management, with some of the highest-profile and best-loved venues in the running for a hospitality industry 'Oscar'.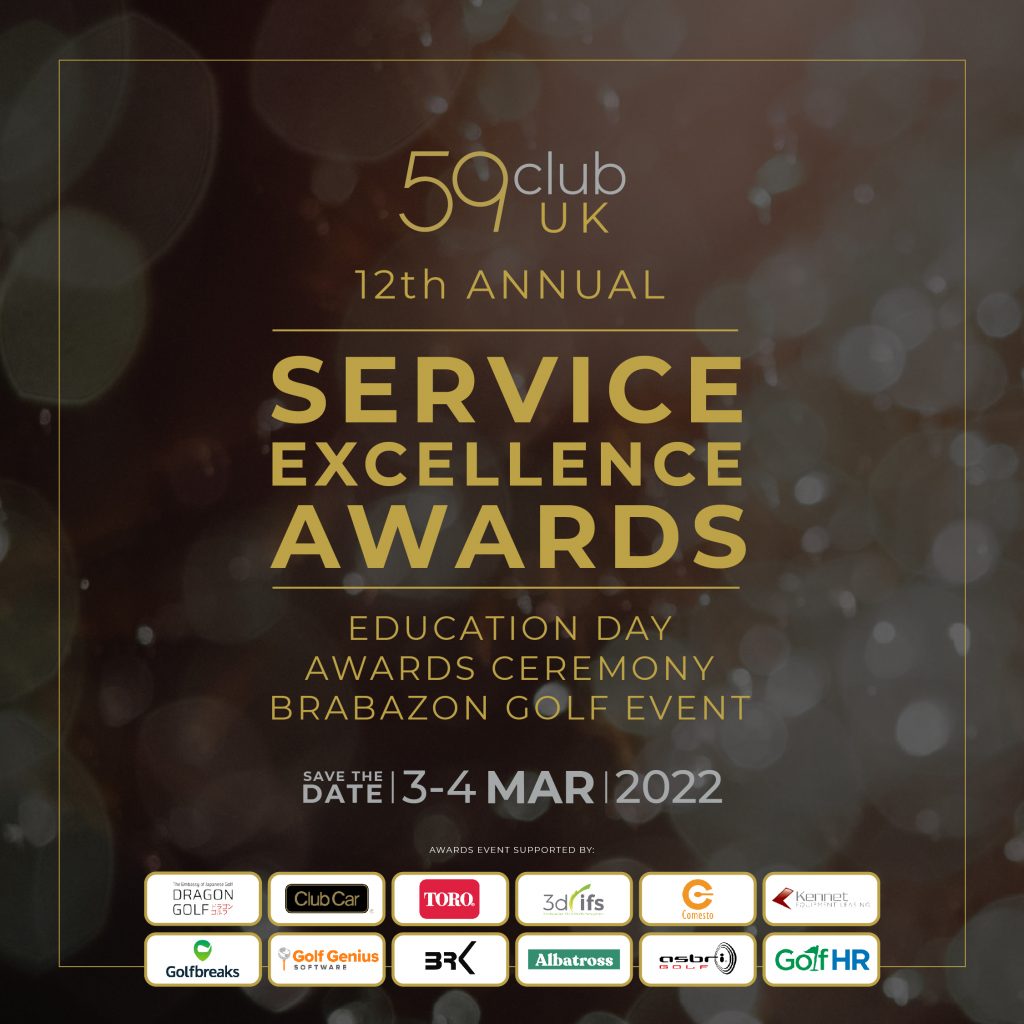 The glittering affair, hosted by BBC's Dan Walker will be staged at The Belfry Hotel & Resort, 3rd and 4th March 2022, and will once again provide an opportunity for the industry to come together to honor individuals, teams, and venues for their outstanding performance throughout 2021.
The accolades are determined by scores collected from 59clubs impartial mystery shopping team, who evaluate the experience afforded to visitors and prospective members in accordance with 59club's objective benchmarking criteria.
Each venue is judged on its performance in the following areas: sales, service, operations, retail, facilities, food & beverage and management. 59club continues to reflect the very best performances, regardless of a venue's size, scale or profile and as has been the case in recent years, five of the main titles will be further segmented in to 3 categories based on the average guest fee charged.
Leading the nominations this year is The Mere Golf Resort & Spa who are vying for awards across 8 categories. The Mere have displayed particular strength in the Sales arena with 6 of their nominations spanning the Golf & Leisure Membership Sales departments & Corporate Golf Sales categories. Following closely, The Belfry Hotel & Resort, The Grove and The Vale Resort, are all competing for titles across 7 awards.
It is not unusual for the Resort properties to be leading the nominations but reflecting the changing nature of the 59club UK family, the world of Member Clubs is well represented with Branston Golf & Country Club securing 5 nominations, closely followed by JCB Golf & Country Club and Long Ashton GC with 4 nominations each and 3 nominations for Royal Dornoch GC, Panmure GC and Harpenden GC.
A number of venues, teams and individuals are looking to defend the titles which they collected 12 months ago.
Special recognition must go to Glenn McNaughton of Long Ashton GC who aspires to be named Food and Beverage Manager of the Year for the third consecutive occasion, whilst Goring and Streatley GC are hoping to see Matt Aplin scoop the Golf Course Manager of the Year for a fourth consecutive year.
59club's diversification into Spa Experience and Corporate Sales (Meeting & Events and Golf), sees the dawn of two new awards categories, with Eden Hall, Foxhills Club & Resort, Hoar Cross Hall, Rockliffe Hall, The Belfry, The Mere and The Vale in the running to be named "Leading Spa Experience", while Bernadette Turner (Breadsall Priory Marriott Hotel & Country Club) Ella Faller & Marc Brooks (Forest of Arden Marriott Hotel & Country Club), Elliott Brown (The Grove), Max Cornes (The Mere), and are competing to be crowned "Leading Individual Corporate Golf Sales Performance".
Looking ahead to the Awards, Will Hewitt, General Manager, 59club UK said: "We are delighted to be returning to a live event to celebrate the 12th year of our awards, bringing the 59club family together to reward the outstanding venues, teams and individuals who have delivered excellence in spite of the well documented challenges faced during 2021. The Awards nominations illustrate some outstanding displays of consistency from many of our longest standing partner venues but also some incredible experiences delivered by many of those who have recently come on board. 59club Awards are always hard earned and we look forward to recognizing the highest standards in our industry with an event to remember".
Other UK venues to receive multiple award nominations include Breadsall Priory Marriott Hotel & Country Club, Celtic Manor Resort, Edgbaston GC, Forest of Arden Marriott Hotel & Country Club, Foxhills, Gleneagles, Portmarnock GC, Rockliffe Hall and Worsley Park Marriott Hotel & Country Club.
With Bulbury Woods GC, Burnham & Berrow GC, Crane Valley GC, Farleigh GC, Gullane GC, Mount Juliet Resort, Radyr GC, Stoke by Nayland GC, The Bristol GC and West Herts GC all nominated.
The night's proceedings will also see 59club bestow accolades upon venues for their commitment to engage, analyse and enrich their member and guest experience, utilising a broad range of survey tools across the my59 software platform. Nine venues will be recognised within this category, including: Ashford Manor GC, Farleigh GC, Foxhills, Henbury GC, Langdon Hills GC, Long Ashton GC, Radyr GC, St Austell GC and Stoke by Nayland GC. These venues will all compete to win an Ultimate Service Excellence accolade.
The award ceremony – sponsored by; 3d ifs, Albatross Digital, Asbri Golf, BRK, Club Car, Comesto, Dragon Golf, Golf Genius, Golfbreaks.com, Golf HR, Kennet Leasing and Toro – will also see 59club's Industry Benchmark, its Gold, Silver and Bronze Flag Awards presented to golf resorts and private member clubs which have demonstrated distinction against broad criteria for both customer service delivery and the quality of their facilities.
To watch the highlights of our previous 'live' awards ceremony click here
59CLUB UK 'SERVICE EXCELLENCE' AWARD NOMINATIONS (in alphabetical order):
Leading Individual Golf Sales Performance
Andy Todd (Panmure GC); Chloe Stewart (The Bristol GC); Joel Westwell (The Grove); Tom Gregory (The Grove)
Leading Individual Golf Membership Sales Performance
Alice Cox-Cooper (The Mere Golf Resort & Spa); Ashley Freeman (Rockliffe Hall); Becky Chard (The Vale Resort); Philomena Wilkinson (Forest of Arden Marriott Hotel & Country Club)
Golf Membership Sales Team of the Year
Forest Of Arden Marriott Hotel & Country Club; Rockliffe Hall; The Mere Golf Resort & Spa; The Vale Resort
Leading Individual Leisure Membership Sales Performance
Alice Cox-Cooper (The Mere Golf Resort & Spa); Becky Chard (The Vale Resort); George Wainwright (Branston G&CC); Neil Rees (Celtic Manor Resort)
Leisure Membership Sales Team of the Year
Branston G&CC; Celtic Manor Resort; The Mere Golf Resort & Spa; The Vale Resort
Leading Spa Experience Performance
Eden Hall; Foxhills Club & Resort; Hoar Cross Hall; Rockliffe Hall; The Belfry Hotel & Resort; The Vale Resort
Leading Individual Corporate Golf Day Sales Performance
Bernadette Turner (Breadsall Priory Marriott Hotel & Country Club); Ella Faller & Marc Brooks (Forest of Arden Marriott Hotel & Country Club); Elliot Brown (The Grove); Max Cornes (The Mere Golf Resort & Spa)
Food & Beverage Manager of the Year
Ali Zrayer (Portmarnock GC); Craig McKinlay (Panmure GC); Dan Orchard (Branston G&CC); Eddie Devane (Mount Juliet Estate); F&B Team (Bulbury Woods GC); F&B Team (Harpenden GC); Glenn McNaughton (Long Ashton GC); Greg Smith (Edgbaston GC); Houssem Belabed (Gleneagles); Jacques Hobson (The Belfry Hotel & Resort); Lianne Harrison (Worsley Park Marriott Hotel & Country Club); Susan Robb (Royal Dornoch GC)
Golf Retail Manager of the Year
Andrew Crerar (Panmure GC); Brad Smith (Royal Dornoch GC); David Coles (Harpenden GC); David Haines & Graham Coombe (Burnham & Berrow GC); John Howells (JCB Golf & Country Club); Jack Heginbotham (Long Ashton GC); James Lambert (Worsley Park Marriott Hotel & Country Club); John Eyre (Woodsome Hall GC); Retail Team (Crane Valley GC); Simon Swales (Radyr GC); Tom Hughes (The Belfry Hotel & Resort – Brabazon Course); Tom Minshull (The Grove)
Greenkeeper of the Year
Andrew Smith (West Herts GC); Angus MacLeod (The Belfry Hotel & Resort – Brabazon Course); Callum Wark (JCB Golf & Country Club); David Wyborn (Foxhills Club & Resort); Eoin Riddell (Royal Dornoch GC); Gary Johnstone (Portmarnock GC); Ian Brawn (Worsley Park Marriott Hotel & Country Club); Jake Field (Edgbaston GC); James Braithwaite (Long Ashton GC); John Smith (Breadsall Priory Marriott Hotel & Country Club); Kenny MacPhail (Farleigh GC); Matt Aplin (Goring & Streatley GC); Neil Robson (Harpenden GC); Phil Chiverton (The Grove); Stewart Duff (Gullane GC – #1 Course)
Golf Operations Team of the Year
Branston Golf & CC; Forest of Arden Marriott Hotel & Country Club; Foxhills Club & Resort; Gleneagles; JCB Country Club; Long Ashton GC; The Belfry Hotel & Resort (Brabazon Course); The Belfry Hotel & Resort (PGA National Course); The Grove; The Mere Golf Resort & Spa; The Vale Resort; Worsley Park Marriott Hotel & Country Club
Golf Manager of the Year
Andrew Jowett (Gleneagles); Brad Gould (The Grove); Brian Duncan (Celtic Manor 2010); Callum Nicoll (Rockliffe Hall); Chris Reeve (The Belfry Hotel & Resort); James Clark (JCB Golf & Country Club); Karl Hepple (Stoke by Nayland GC); Noel Werner (The Vale Resort); Sean Graham (Foxhills Club & Resort); Simon Joyce (Branston Golf & CC); Stephen Hindle (Worsley Park Marriott Hotel & Country Club); Tom Lawton (The Mere Golf Resort & Spa)