---
59club cements its position in the Middle East and Africa with establishment of local office and formation of dedicated 'MEA' division amidst international growth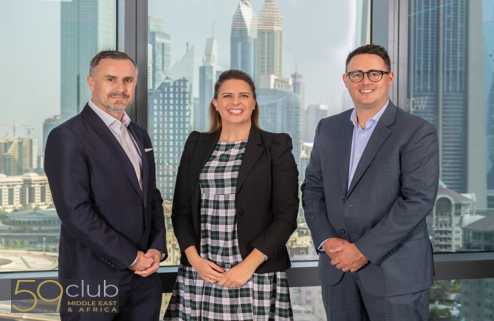 United Arab Emirates, 13th October, 2019: 59club, the world's leading specialist customer service & sales analysis and training provider, has enhanced its rapidly accelerating global footprint with the opening of a dedicated office in Dubai, signalling the official launch of 59club Middle East and Africa.
Already, 59club has established and developed relationships with 14 well-known golf resorts in the region, including Dubai Golf, Aldar properties in Abu Dhabi and resorts in Mauritius and Seychelles. Today's announcement cements 59club's commitment to the region and recognises its success there by creating the structure for an unrivalled, on the ground service for existing and new clients. It follows the launch of 59club Asia in November 2018 with additional offices set to open in emerging destinations worldwide as demand for 59club's expertise and intel reaches an all-time high.
As well as a local presence, the development of new spa, F&B and Hotel products will allow 59club MEA to enhance performance within the ever-growing, high-end leisure market the region is famed for. Its market-leading software and assessment criteria provide the resources to improve and maintain 'sales & service' etiquette, increasing customer satisfaction, revenue and profits in the process.
The 59club MEA team will consist of Neal Graham and Mark and Sally Bull, who collectively boast more than 30 years' experience working in the region. During this time, they have established important relationships with key stakeholders within the Golf, Spa and Hospitality industries, which will be pivotal to future success.
Of the launch of 59club Middle East and Africa, 59club CEO, Simon Wordsworth, said: "I'm delighted to announce the launch of our Middle East and Africa division and hugely excited to have Neal, Mark and Sally on board at the helm.
"Boasting some of the finest leisure destinations worldwide, 59club's growing profile in the UAE and Africa presents the opportunity for operators to enhance their offering even further and ensure the region's reputation for service is extended. For our clients, this also means business growth and I anticipate an immediate impact under the leadership of our 59club MEA team."
59club Middle East and Africa Co-Director, Neal Graham, added: "We are excited to enhance the service and offering to our current and potential new clients within the region. The expansion of our products into the Spa and Hospitality areas represents an exciting development and will enable us to utilise the powerful management tool to identify areas of concern and assist clients with training and support.
"For the first time, it will provide operators with the tools to benchmark their standards against competitors, the industry and some of the leading venues worldwide, which is going to have a tremendous impact on performance."
Over the past ten years, 59club has taken the industry by storm by providing data-driven solutions and industry benchmarks to address issues of sub-par sales and service performance, to which many leading venues have aligned their principals. 59club's overarching influence within the Middle East and Africa will drive standards, advance experience and generate greater profitability for each and every commodity within the service industry.
For further details and enquiries, please email: enquries@59clubmea.com